Benebell Wen
Benebell Wen is the author of Holistic Tarot and The Tao of Craft. She is also the creator and illustrator of the Spirit Keeper's Tarot. Holistic Tarot was shortlisted for the Eric Hoffer Book Awards, won Best Tarot Book in the Tarosophist Annual Tarot and Divination Awards, and the CARTA Awards hosted by the International Tarot Foundation.
Wen has been a keynote speaker presenting on various metaphysical topics, with an emphasis on the tarot, at the Bay Area Theosophical Society, San Francisco Bay Area Tarot Symposium 2015, Northwest Tarot Symposium in Portland, Oregon in both 2016 and 2018, Stanford University, U.C. Berkeley, PantheaCon 2018 in San Jose California, and in 2018, was a headlining master class presenter at Readers Studio 2018 alongside Mary K. Greer and Rachel Pollack, and a key presenter with Rachel Pollack at the 2018 U.K. Tarot Conference in London, England.
Alongside her scholarship in the tarot and Eastern mysticism, Benebell Wen still continues her legal practice, working primarily in venture capital, corporate law, intellectual property law, and commercial real estate.
Joanna Powell Colbert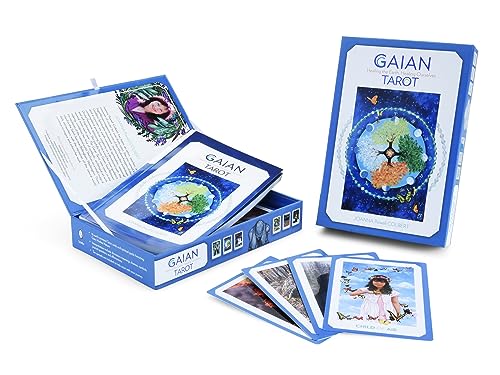 Joanna Powell Colbert is an artist, author, teacher, mentor, and retreat host who encourages lovers of Mama Gaia to lead purposeful, creative, and soulful lives. Best known for The Gaian Tarot , she has also created the Pentimento Tarot  and her latest, The Herbcrafter's Tarot. Sagewoman Magazine named her one of the Wisdom Keepers of the Goddess Spirituality Movement.
Joanna has been walking the path of Goddess Spirituality since the early 1980s, exploring and developing a deeply satisfying, creative, earth-­based spirituality that grounds her while connecting her to the Sacred Feminine in everyday life. She picked up her first tarot deck in 1970 and started studying in earnest in the early 1980s. It has been a faithful tool for guidance and inner exploration ever since. 
Michelle Tea
Is unable to join us.
Terry Iacuzzo
Terry Iacuzzo started reading Tarot professionally when she was 20 years old, and over the past 50 years has read the cards for thousands of clients who found her through word of mouth. In 2004, Iacuzzo published her memoir, Small Mediums at Large: The True Tale of a Family of Psychics, recounting her life growing up in a family of seers.
Also known as "The Psychic Police" for her unwavering insistence on the authentic and her ability to validate the paranormal experiences of others, Iacuzzo has extensive experience in séance, mediumship, exorcism, ghost sightings, and all types of psychic readings.
Rachel Pollack
Rachel Pollack is one of the world's foremost authorities on the modern interpretation of the tarot. She has published 36 books, including two award-winning novels and the tarot classic, 78 Degrees Of Wisdom, referred to by readers, teachers, and tarot professionals as "the Bible of tarot readers."
She also designed and drew the The Shining Tribe Tarot, described by Caitlin Matthews as "the crowning jewel of geocentric shamanism," and (with renowned tarot artist Robert M. Place) she created The Burning Serpent Oracle.
Pollack is a member of the American Tarot Association, the International Tarot Society, and the Tarot Guild of Australia, and has been conferred the title of Tarot Grand Master by the Tarot Certification Board, an independent body located in Las Vegas, Nevada.
Rachel Pollack is also a poet, fiction writer, and a comic book artist. As a fiction writer, she has been bestowed many honors and awards, among them the Arthur C. Clarke Award for Science Fiction (for Unquenchable Fire) and the World Fantasy Award (for Godmother Night). She is a recommended member of PEN International, and has written for numerous publications.
Pollack holds an honors degree in English from New York University, a master's degree in English from Claremont Graduate School, and has taught English at New York State University. With fellow tarot author Mary Greer, she has taught at Omega for more than 15 years.
Mary K. Greer
Mary Greer is an independent scholar, writer, teacher, and professional tarot consultant, known for her innovative teaching techniques. With over 50 years of experience, she is the author of 12 books on tarot and on magic, including the groundbreaking, Tarot for Your Self. Recipient of the International Tarot Lifetime Achievement Award, the Mercury Award, and the COVR award for best divination book, Greer is featured at conferences and workshops in the United States and abroad. A Priestess in the Fellowship of Isis and founder of the Iseum of Isis Aurea, she has a wide following in the women's and pagan communities for her work in women's spirituality and magic.
Greer is the author of many books on tarot and magic, including the classic Tarot for Your Self: A Workbook for Personal Transformation, and a scholarly biography of four 19th-century women magicians, Women of the Golden Dawn: Rebels and Priestesses. The Essence of Magic: Tarot, Ritual, and Aromatherapy is her work on magical aromatherapy and Mary K. Greer's 21 Ways to Read a Tarot Card, won the Coalition of Visionary Resources Award for best divination book. Many people find her Complete Book of Tarot Reversals is their go-to book for upright and reversed card interpretations. She recently co-authored with Stuart Kaplan, Elizabeth O'Connor and Melinda Boyd-Parsons an art book and definitive biography of Pamela Colman Smith: the Untold Story.
Mary Greer has a master's degree in English literature from the University of Central Florida, where she first taught tarot in 1974. She was also a faculty member and administrator of New College of California in San Francisco for 11 years. She currently lives in Northern California.